Kiwifruit Plants for Sale
Field grown Bruno bare rootstock for seasonal delivery – commencing 20th of July.
Strong canes with a minimum diameter of 6mm measured from the base of the plant. Can be suitable for first season grafting.
Grafted Plants: Hayward, Chieftain, G3, M33, M91, G9, M56 on Bruno root stock.
Bounty 71 Root Stock: Field grown and potted delivery June/July. Growing on lines in bags available now.
1 year old field grown cuttings.
Potted cuttings growing on line.
Dormant Field grown vines and large field grown plants potted in PB 12 Bags can be supplied at any time.
G3 Grafted onto Bounty 71 rootstock. Our plants are grafted onto sturdy canes and grafted at least 300mm from the base of the plant supplied in PB 2 pots.
Other cultivars available – please enquire.
We supply all plants in pots for planting at any time of the year, and offer a discount for orders of 1000 plants or more.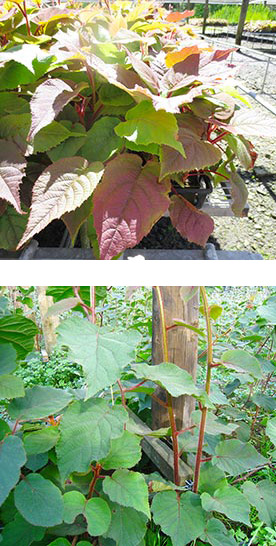 Our High Health PSA hygiene starts from the selection of suitable Bruno fruit from which to extract seed.
Only selected Bruno growing in NON PSA regions are used. Before collection the vines are tested for PSA. The fruit is then thoroughly washed and disinfected. Once the seed is extracted it is also disinfected before being dried.
The seed is then germinated and grown on in an enclosed glass house. After the seedlings are hardened off they are field planted using our waterwheel transplanter.
All plants are guaranteed to be of good quality and health, and field grown.
Kiwifruit plants are treated with copper prior to dispatch unless exempt under KVH rules for research purposes. Plants are bundled in groups of 10. At an optional extra cost the roots can be wrapped in hessian and moist sawdust (please enquire at time of order for additional costing of this service). Prior to dispatch leaf samples are sent to Hill Laboratories for PSA testing.